Think back to the last product you consumed!
Maybe it was a pack of orange juice or a loaf of bread. What did you do when it reached its shelf life? You probably read some of the information it was able to hold and then tossed it into the bin.
Traditional packaging for products have had a limited role until this point but with the emergence of IoT, there's an opportunity for products and packaging to play a larger role and do more.
Smart Packaging or Smart Products which are assigned internet ID's can play a much bigger role in how consumers engage with their everyday products and how brands make this happen. Once digitally activated, these smart products then start communicating with the consumers.
Here are some of the features that can be activated on Smart Products or Smart Packaging :
1. Authentication: A winning characteristic of smart packaging starts with authenticating the product. Prior to purchasing, consumers need to make sure the product is genuine.
A lot of apparel brands, like, MK, Channel, Louis Vuitton and Levi's are already capitalizing on this opportunity to fight counterfeiting. Other companies are enabling these brands to do so by integrating their microchips in apparels. Hovering a smartphone in front of microchips-embedded clothes can verify their authenticity.  The same can be done via QR codes and scannable data matrix.
2. Open Sensors: This is an important packaging characteristic to identify whether a product has previously been tampered with. Like, using 'connected' NFC bottles featuring Thinfilm, Johnnie Walker established their originality and usability readiness. Via NFC connected sensors, consumers can scan the labels with their phones, which instantly signals if the product is 'open' or 'closed'. A great example of deepening customer's product experience while ensuring the originality of the product's seal.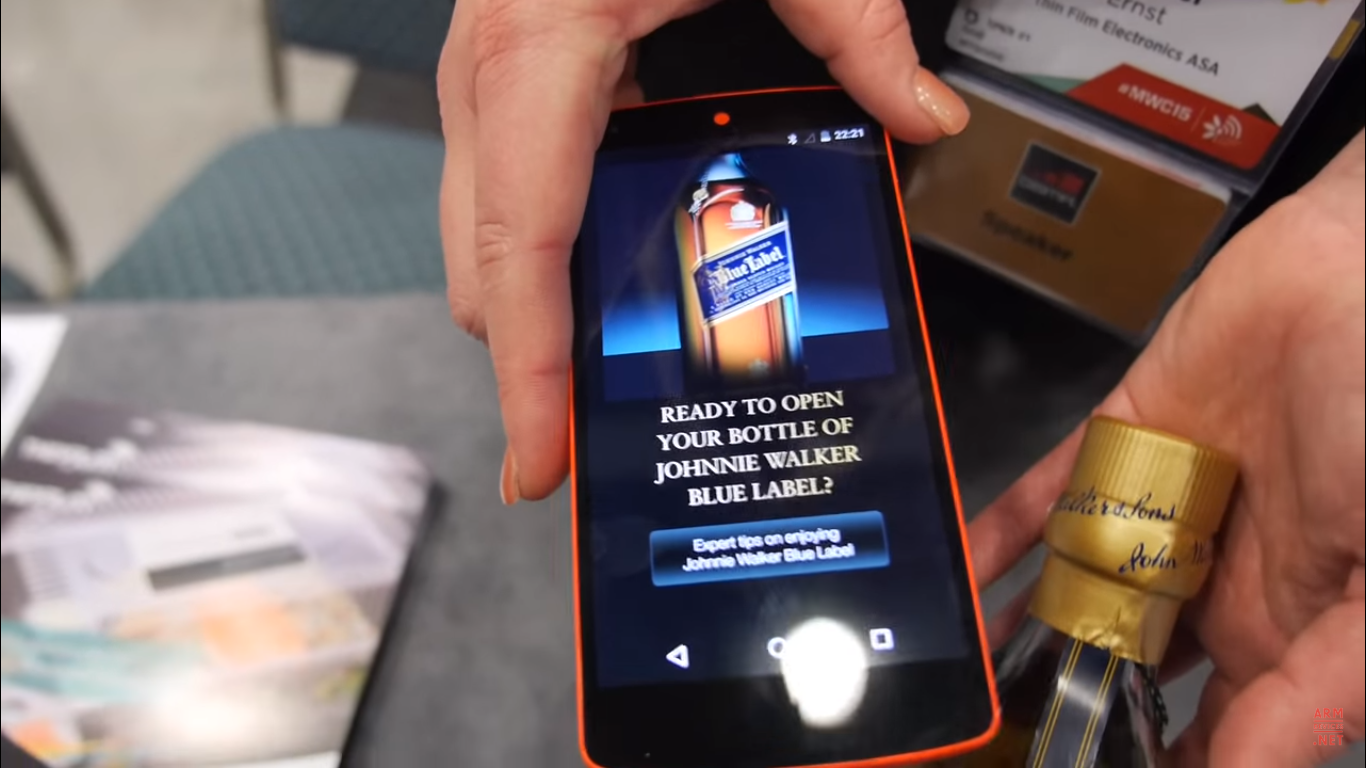 (Image Source: ThinFilm)
3. Track and Trace: Since Smart Products maintain a digital record of themselves on the internet, each product SKU or serial level item can also maintain a log of the different locations and entities it has changed hands at as well as a log of activities carried out on the journey to the end consumer. These track and trace logs can be activated off of the packaging by anyone who wants to trace back that journey through the lifecycle of the product.
4. Temperature Sensors: Easily perishable products, especially certain CPGs, require being stored at specific temperatures. Specially developed NFC stickers with temperature sensors are now available for packaging. Consumers can tap the product packaging with their NFC enabled phones to identify whether the optimum temperature is maintained. It also helps them to identify situations which are deterrent to maintaining a product's ideal temperature and subsequently act on it.
5. Best Before Warnings: Smart packaging can significantly improve the date label instructions by providing a clear picture to customers. To curb food waste and make consumption more transparent, date labels must communicate trigger warnings to customers in a concise manner. The FMI-GMA food label initiative is an example of how packaging information connects with the end consumer. Streamlining and standardizing the wording accompanying the date labels on packages offers greater clarity regarding the quality and safety of products. Including 'Best if Used By' and 'Use By' on smart packaging labels and further allowing products to communicate this information directly to the customer will make sure the product is consumed in its due time.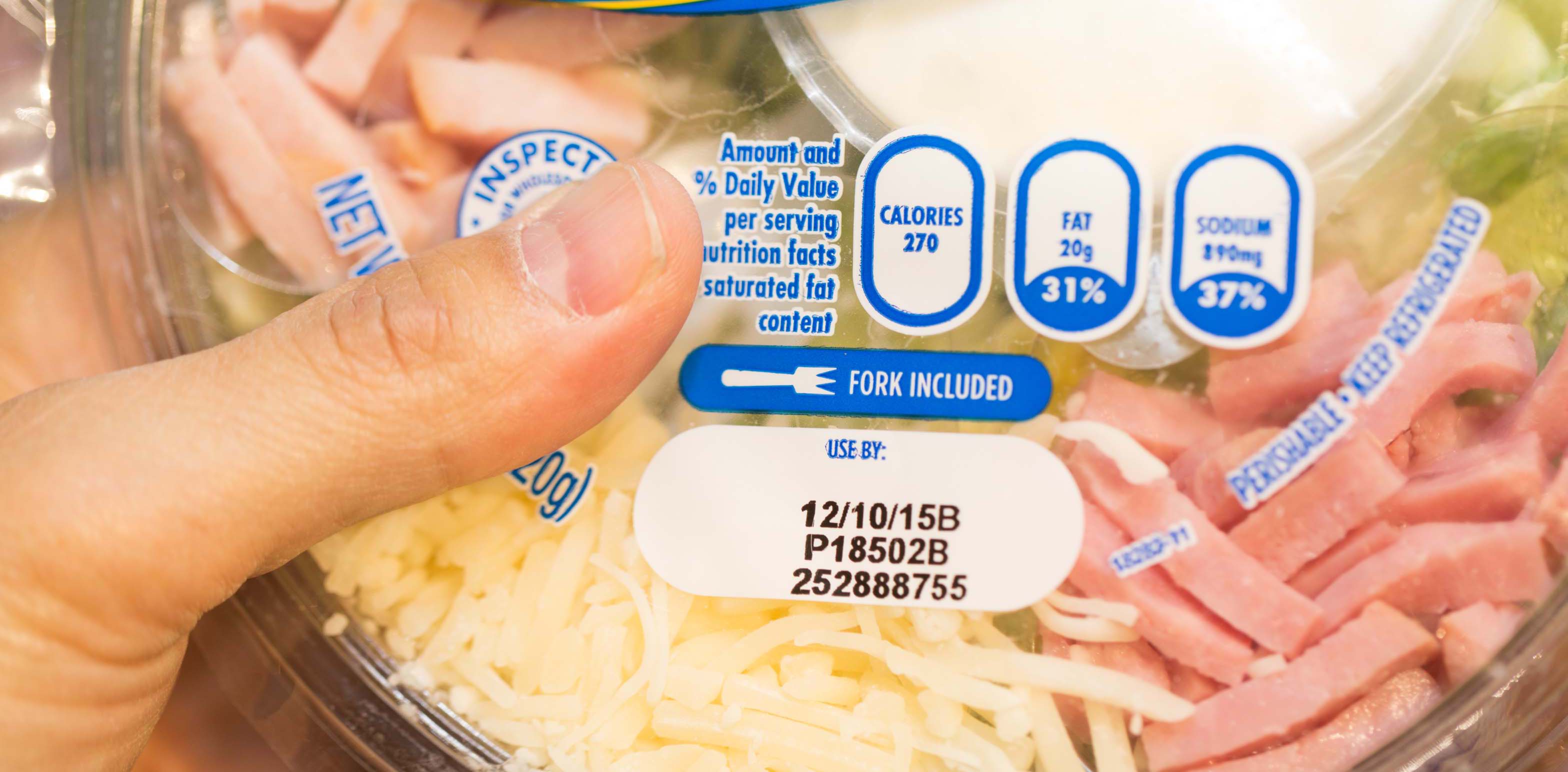 (Image Source: FMI)
6. Reordering Action:  Smart products must be able to reorder themselves or help customers do so by connecting with shelf stock data or providing triggers on the packaging the customer can use to scan and instantly re-order a product. By identifying the quantity levels, smart products can either trigger reorders or to help consumers quickly place the next lot of orders for the same product they are running out of.
7. Digital E-Labels:  Smart packaging empowers customers to pull any information on the digital E-labels, which can be accessed anywhere at any given point in time. These include all the content and information about the product, which may exist in the form of documents, certificates, videos or images. Building interactive packaging labels for products can trigger these experiences. For instance, scanning the digital E-Label for a pasta brand can prompt customizable interactive videos and pasta recipes on its app.
8. Real-Time Offers: Smart Packaging gives consumers the flexibility to edit information or dynamically change content delivered in real-time. It allows manufacturers, brands, and retailers to update and upsell relevant offers on the particular product. Say, for instance, a wine brand wants to inform its customer about the 1+1 promo offer on one of its products, which is only valid for 24 hours.  With smart packaging, brands can proposition variable pricing and offers in real time by letting smart products communicate this to the consumer.
Such smart packaging solutions make the customer experience more interactive with the 'connected' and smart packaging. Smart products and labelling is a wide-open field with a plethora of applications aimed to refine the customer experience as well as a brand's presence around its products.